01 | Gilmar Smith
As we've said before, the Platypod is more than just a sturdy plate to support your camera. Its versatility has no limits; you just have to be creative! Today I'm going to show you one of the many ways I use mine. Recently, I challenged myself to create beautiful light using my Platypod Ultra. I love photography, I love light, and I love being able to create anywhere I go. But, to be honest, I don't want to carry a whole lot of gear with me. I wish I could, but most photography equipment is heavy and bulky. Combined with having back problems, it's not a good combination. Here is the setup I tried in the comfort of my home with my daughter as a model. You could easily take this setup with you in your camera bag without sacrificing your back.
To View More of Gilmar Smith's Work, Click Here
02 | Larry Tiefenbrunn
Do you have an interest in flash portraiture and studio lighting? Well, you're in for a real treat if you'd like to attend the upcoming Kelby One Flash Photography seminar on November 17 and 18, 2020, featuring Scott Kelby and Joe McNally.  At 5:45 PM on November 17, I will be presenting ways to enhance your strobe experience using Platypods. Our spokesman, Larry Becker will be my cohost and I will be showing images from several top-notch professional photographers and will explain their setups.
One of the most flattering techniques in portrait and headshot lighting is the clamshell setup, also known as butterfly lighting, due to a telltale nasal shadow cast upon the upper lip. This can be accomplished with two lights, one above and one below the subject, with lighting ratios adjusted to diminish chin shadows and eye wrinkles. Alternatively, the lower light may be replaced with an EyeLighter or Catchlight reflector.
To View More of Larry Tiefenbrunn's Work, Click Here
03 | Joe Pellicone
I went into NYC and NJ for the 911 Memorial lights and wanted to share some of the images. I worked in the Twin Towers for a while and lost thirty seven coworkers on that day, so it's a pretty sad and emotional day for me. Because of this, I try to go each year to document the lights. Once again the Platypod came in handy. I was with two other photographers and while no one approached me with my Platypod, they were both asked to put their tripods away. These images are from the Ground Zero area. All are long exposures with the camera set to Aperture priority at f11 to f22 at 100 ISO.
To View More of Joe Pellicone's Work, Click Here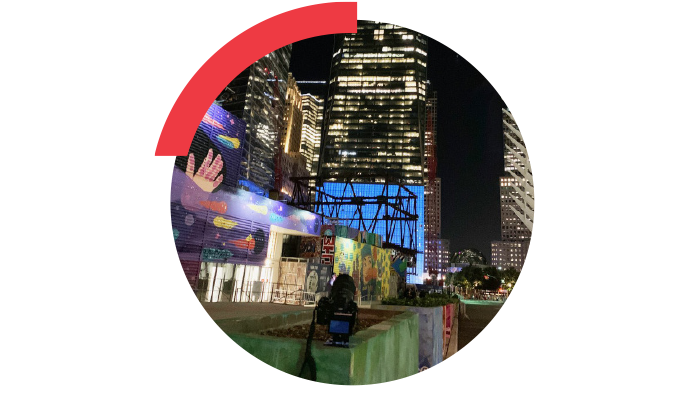 Just Released!
Multitask with the Platypod Ultra Commercial Twin Pack

Doubling creative impact possibilities for distance learning, the new Ultra Twin Pack is ideal for strategically setting up multiple cameras, lights and accessories in small spaces. It's been designed specifically for online education applications where teachers might need multiple angles of coverage to show students exactly what's going on, like in a chemistry experiment, cooking class, or musical instrument demo.
Black Friday sneak preview: FREE set of Goosenecks with each purchase of Twin Pack! Exclusively for this Newsletter!
(Do Not Discard)
To Learn More, Click Here
©2020 platypod.com  ||  Graphic Design and Art Direction by Eryka Bagwell Creative  ||  Editing and Publishing by Chamira Young